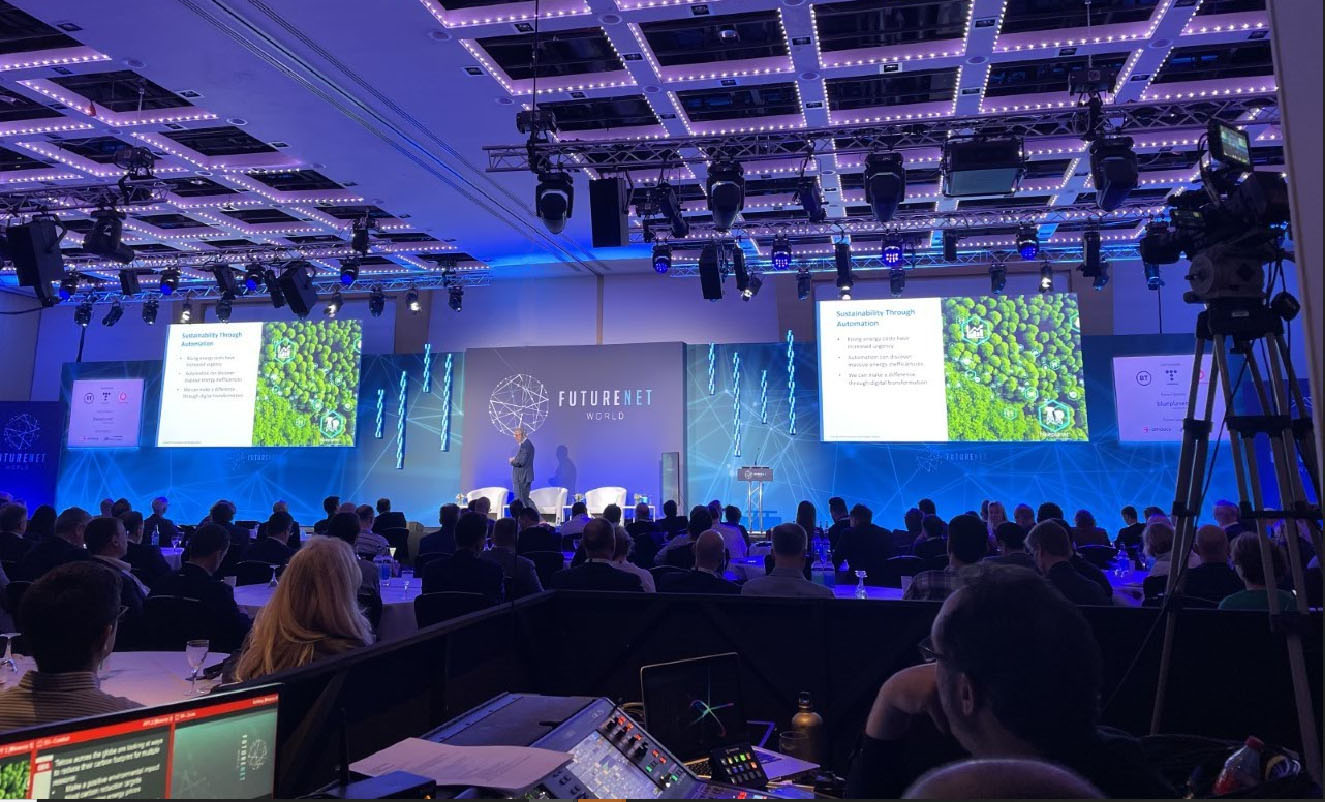 We were delighted to work with the team at Futurenet World to provide a complete production solution for their UK Conference in May 2023 at The Novotel Hammersmith West.
The brief was to supply a comprehensive package of set, staging and AV equipment to support a conference event. The design needed to work both as a main plenary set and rapidly split into two separate breakout spaces. Both versions of the design needed to have full technical functionality as well as balance and symmetry in the design when divided during the 20-minute turnaround.
The set and staging package for the event was designed in-house and used in excess of 150 sq/m of large format print. The solution included lecterns, bespoke comfort monitor hides & LED pixel candy on the set. Staging was by Prolyte litedeck. Scenic elements on site were put together and managed by Jamie Raw and Gareth Hook with support from the team at connectioncrew.
The majority of the technical package was flown. Using 18 points lead rigger Jenton Hollingum constructed the grid from around 70m of Prolyte H30d truss and was lifted with EXE 250kgs and EXE 500kgs LVC chain hoists. The system was controlled from a Kinesys digihoist array to allow the complete audio, lighting and video system for the event to be built at ground level and taken up in one piece.
Audio for the conference and awards show was managed my Stuart Mckay and Ian Wood. The speaker system was centred around flown D&B V7p and V10p cabinets. D&B T10 and E6 cabinets were deployed for front-fill and presenter monitors and 8 x D&B Vsubs were installed behind the set for some 'gentle' added warmth to VT's and awards stings. Signal was distributed via DS10's to a total of 10 x D40 amplifiers. Shure Axient digital RF systems with DPA4466 headsets provided the front end and a trusty Yamaha QL5 in each of the two spaces as the control surface.
Video routing, to ensure a seamless split for the two separate spaces, was taken care of with Analog Way Zenith 200's. The system had inputs from main PPTX machines, Keynote macs, live camera and V-mix for virtual panellists. End points included numerous large format comfort monitors, relay screens and dual Panasonic PT-RZ21k projectors for the main screens. Data and graphics were taken care of by Chris Southcott, Mark Oakley, Mark Mountford, Dave Davenport and Kevin Phillipson.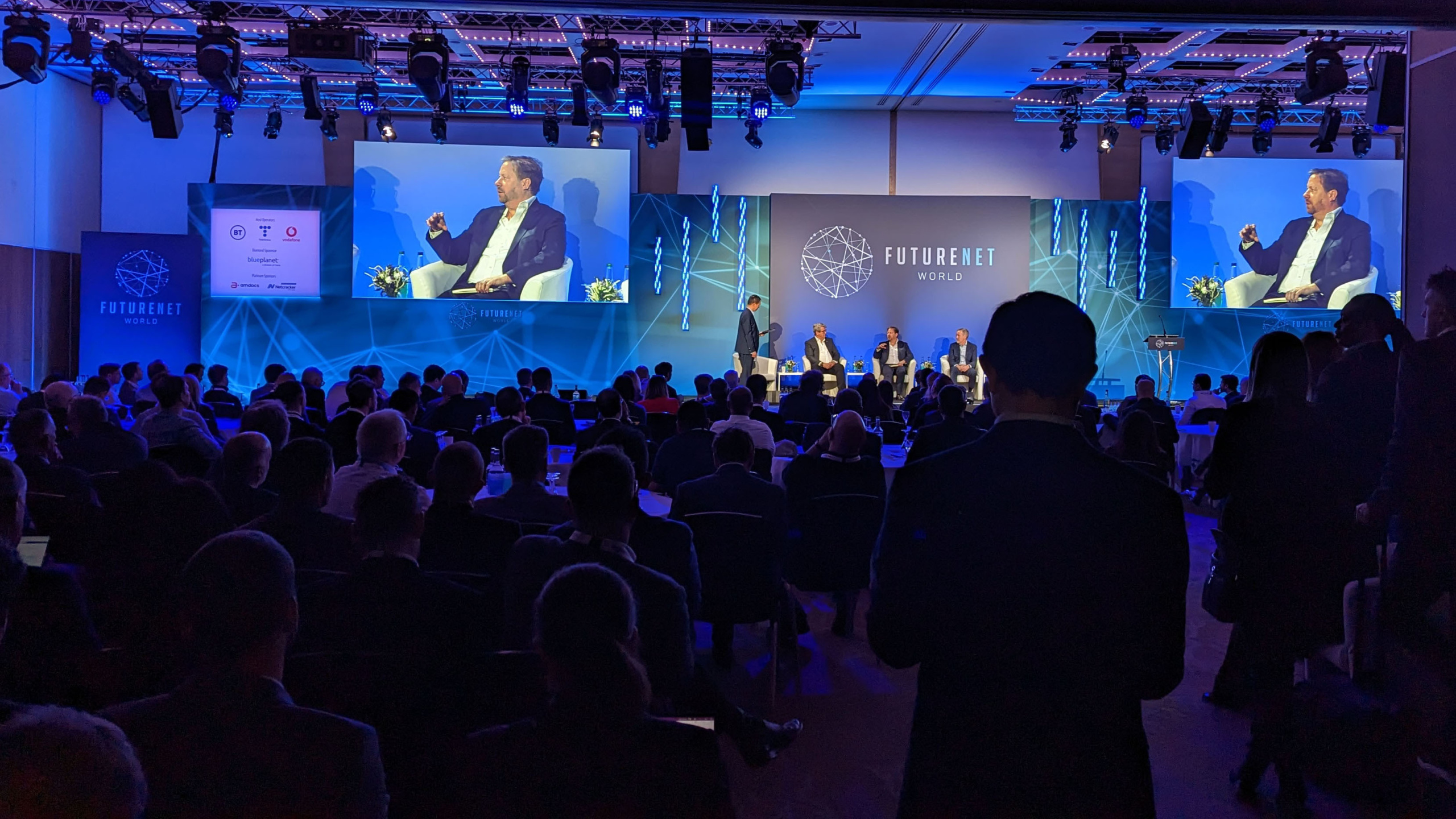 Our lighting team was headed up by the splendid and always welcome Grant Witton. As with the audio, video and scenic elements of the job the design had to work for both a main plenary set-up but also when split into two separate spaces. Key to the client's brief was that the breakout spaces could not feel like poor relations to the main keynote presentations. Grant used a package of 56 Robe lighting moving head fixtures that included T1, LEDbeam 350, Cuete and LEDbeam 150. Generics and stage wash were provided by the Chauvet Professional variable white range and used the F415vw as backlight, F915VW as front light with the E930VW for specials. The addition of T1's in the roof were also very useful for last minute changes on stage – and saved the need for any re-focusing. Uplighting of the 26m wide main set was done with the compact but ultra-bright Chauvet Q15 batten. All lighting kit was networked via Luminex and each space had an Avo console at the front end.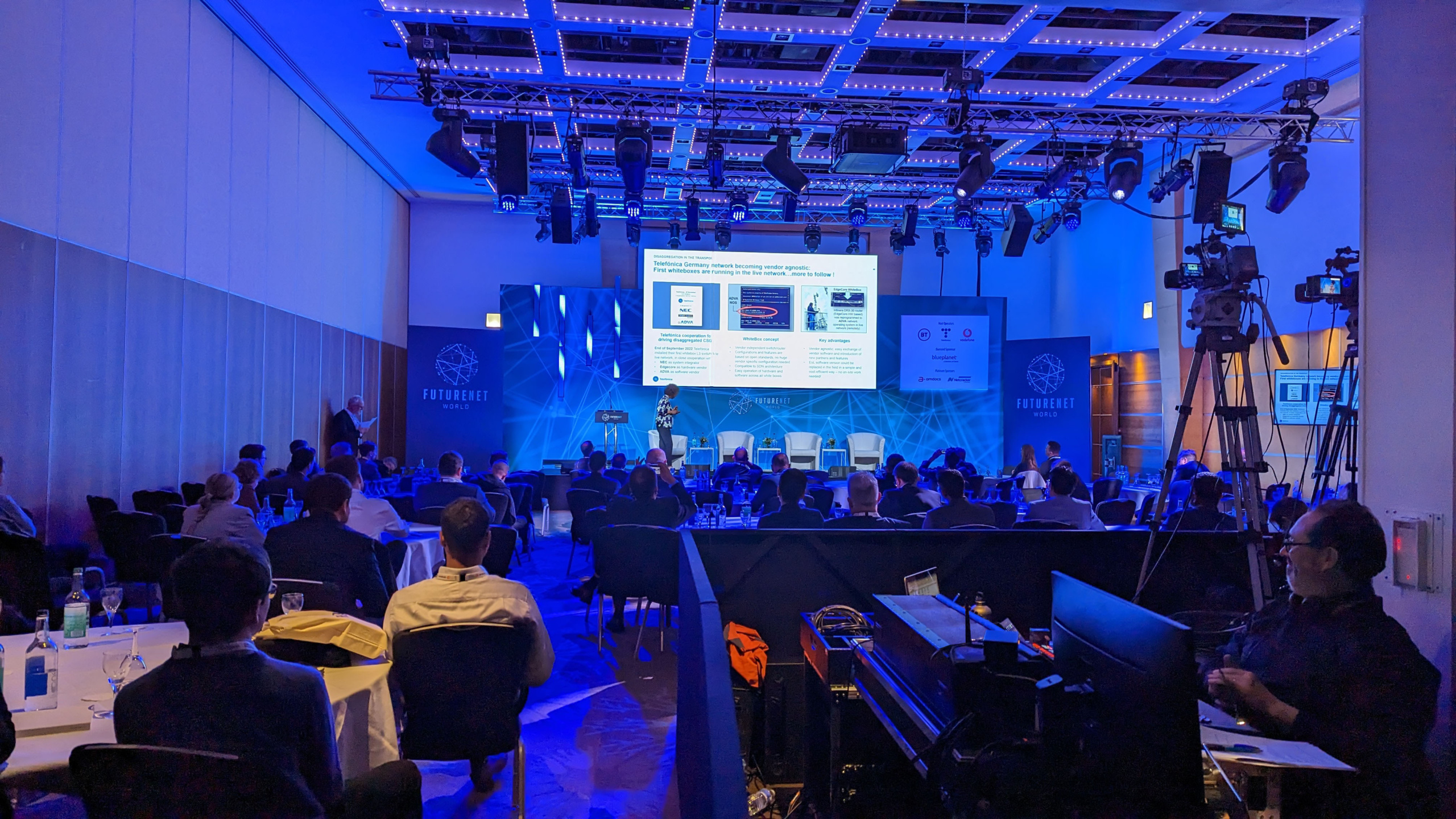 We'd like to extend our thanks to the team at Futurenet for bringing us on board, their fabulous humour and hospitality on site and warm words after the event:
"Many thanks for your support this week. It has been a pleasure working with you and your team, and we are extremely pleased with the result. The set looked amazing, and the AV crew were excellent. Look forward to exploring further events!"