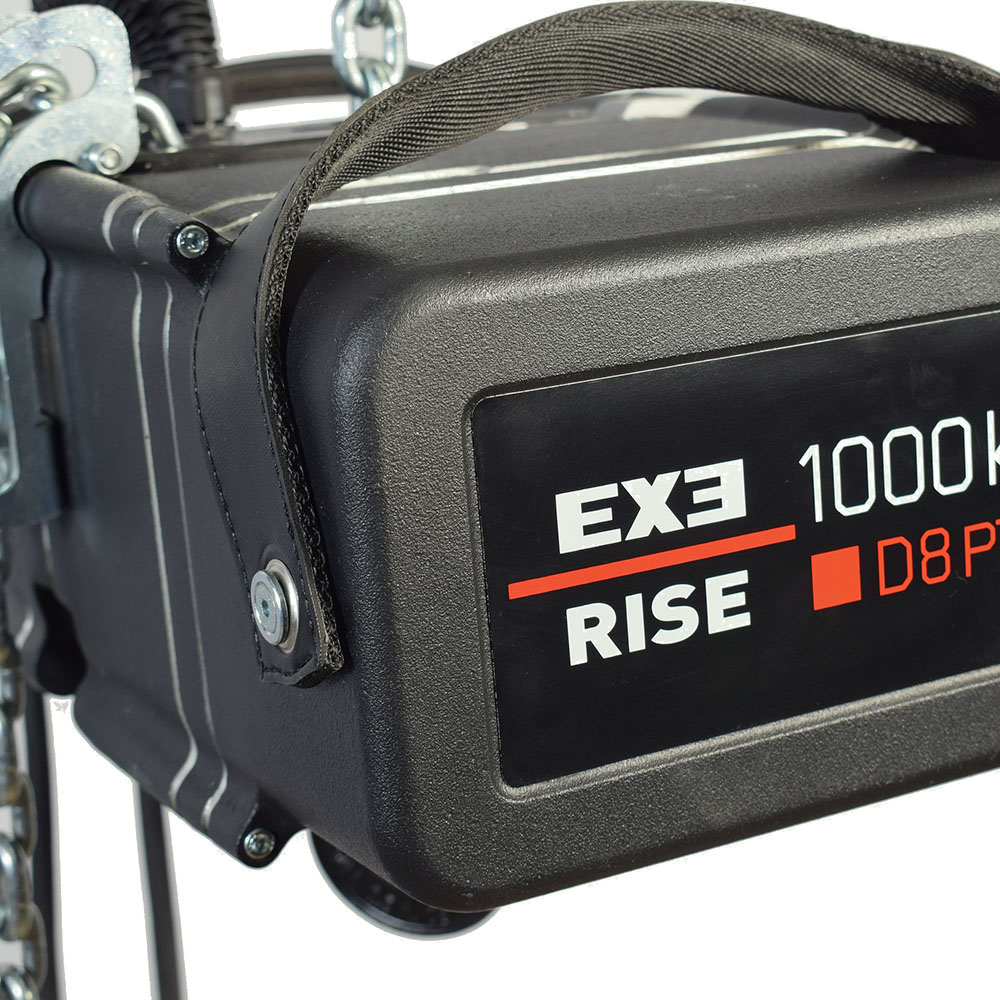 Whitepd have recently increased the stock of EXE motors in our rigging equipment hire department. The purchase – from the excellent team at Area 4 industries – includes models from 3 different frame sizes in the EXE range. EXE motors are specifically designed to reliably cope with the rigours of life on the road, with all electro-mechanical features and components made in Italy.
The bulk of the purchase included the well know M and L chassis with a 500kgs and 1000kgs rating respectively. There were also a number of the smaller chassis (but same design) 250kgs motor.
All the units purchased are the LVC low voltage control versions. The 0.25T EXE D8+ motors are supplied with 20m HOL chains as are the 0.5T EXE Rise. Our 1T d8+ motors come with a 25m HOL.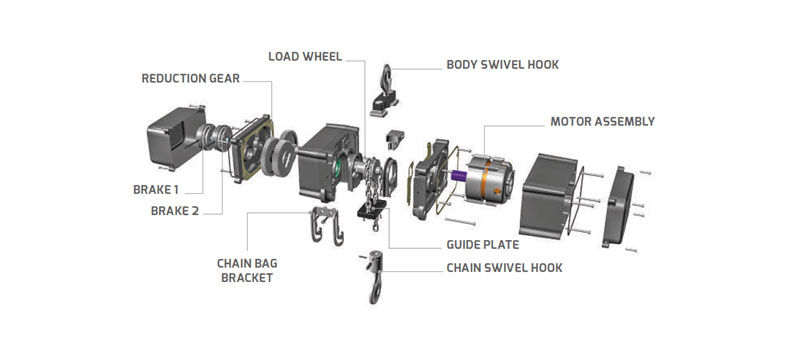 Designed and developed in Italy to be light, extremely strong, corrosion-resistant and built to last.
The EXE Rise series of double-braked motors were built from the ground up specifically for event rigging and feature an IP55 rating. The industry standard units have a number of features that make them so popular. All motors in the range have a swivel hook both on the body and chain. For increased safety and reliability, the clutch is positioned on the motor shaft in front of the motor assembly outside of the load path. A custom chain-bag guide allows the motor to be used in self climbing orientation or motor up as required.
As part of the order we also increased our hire stocks of motor controllers. Martin (our cable specialist) has added a significant amount of 1ch single pairs, dual soca looms & various breakout spiders and boxes. We stock motor controllers from EXE and Kinesys. The EXE 4-channel units are a great, compact and robust unit that do exactly what they say on the tin (they send 'em up and down with zero fuss). The highly specced Kinesys digihoist units are perfect for the bigger lifts with multiple motors.
Key specifications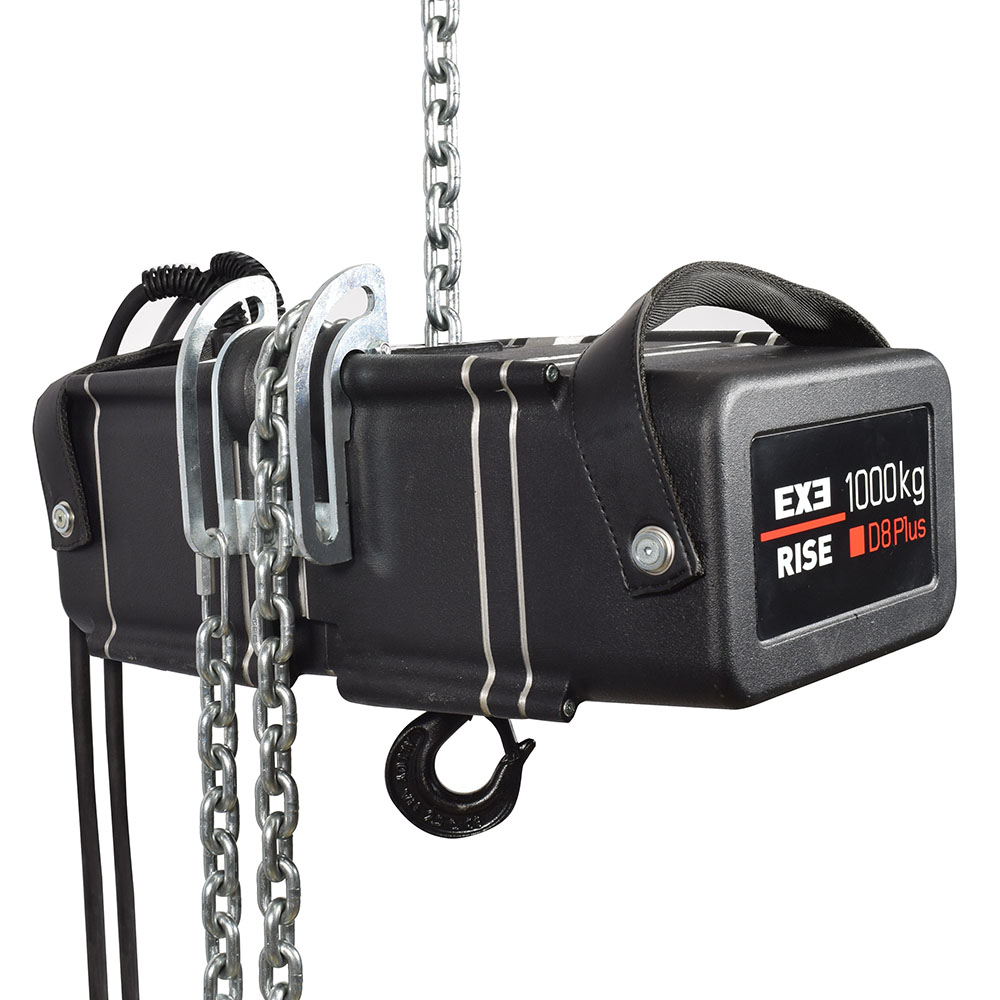 1000kgs EXE Rise
1T WLL
Safety factor: 8:1
EXE frame type: Large
Height of lift: 25m
Chain grade: 8 x 24mm DIN EN818-7
Total weight (inc chain): 80kgs
Control system: LVC
Supplied in: single flightcases
EXE 1000kgs motor hire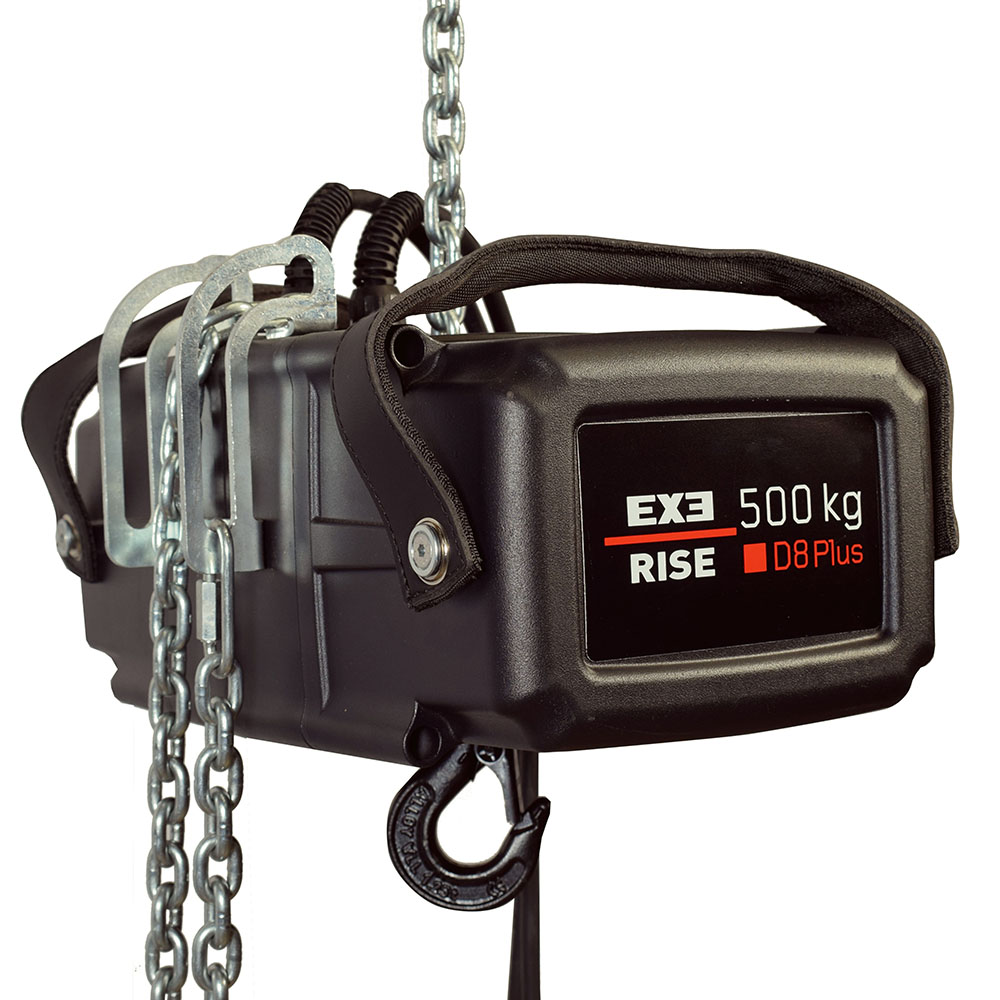 500kgs EXE Rise
0.5T WLL
Safety factor: 8:1
EXE frame type: Medium
Height of lift: 20m
Chain grade: 6 x 18mm DIN EN818-7
Total weight (inc chain): 41.5kgs
Control system: LVC
Supplied in: dual (and 4-way if you're feeling brave) flightcases
EXE 500 kgs motor hire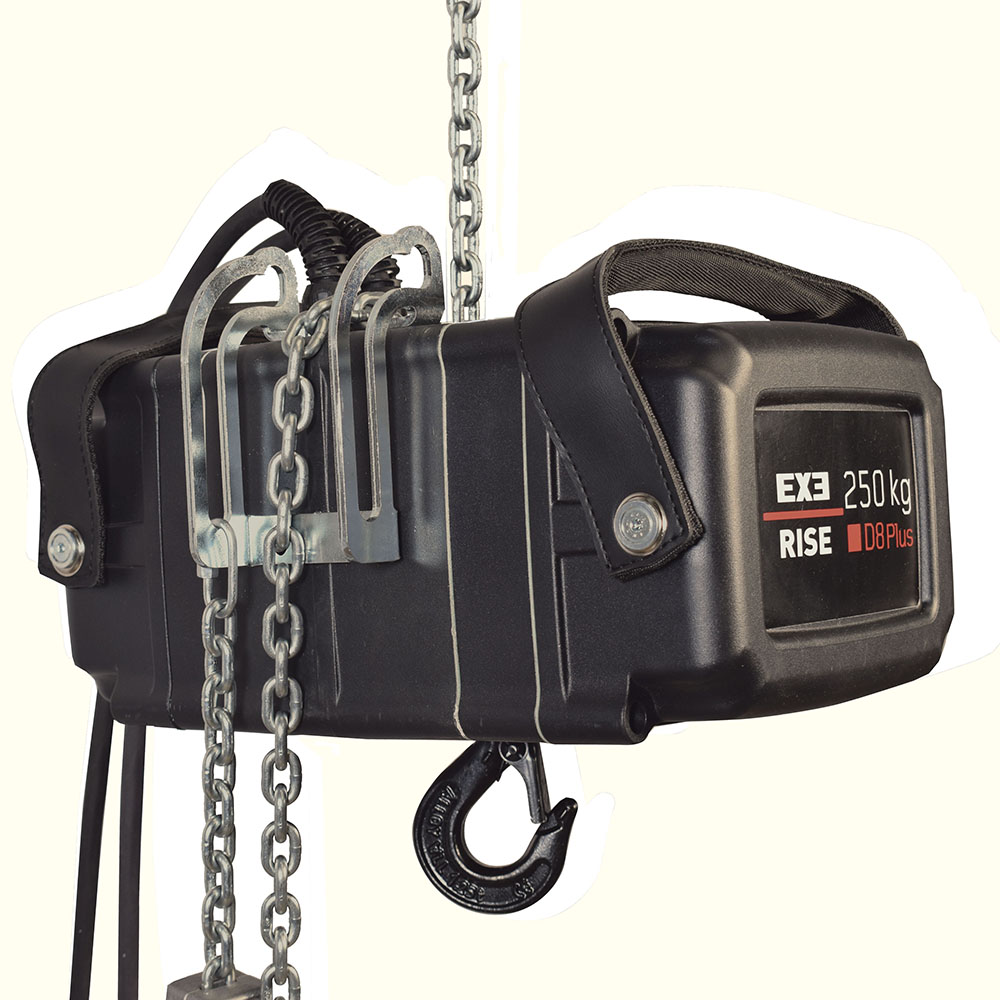 250kgs EXE Rise
0.25T WLL
Safety factor: 8:1
EXE frame type: Medium
Height of lift: 20m
Chain grade: 5 x 15mm DIN EN818-7
Total weight (inc chain): 32.3kgs
Control system: LVC
Supplied in: dual flightcases
EXE 250 kgs motor hire