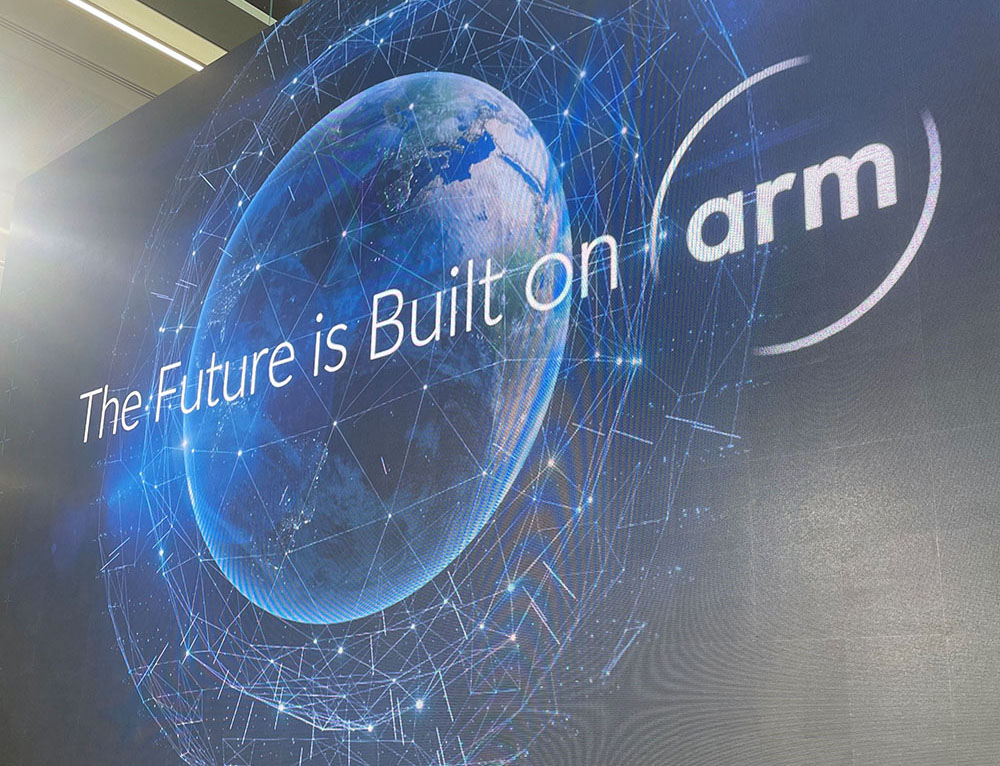 Working for global technology specialists proAV, WhitePD were pleased to be contracted to supply a full AV technical package to support the multi-billion dollar IPO of Arm Holdings Plc.
British-based Arm designs semiconductor chips for tech giants such as Apple and Nvidia and it's estimated that over 70% of the world's population relies on Arm's technology.
The hybrid event was centred at the Cambridge head office of ARM where around 2000 employees gathered in the atrium. In addition more than 10 remote Arm sites around the world were linked in via Zoom with a live Eurovision-style whip around the sites. The entire event was simultaneously linked up via satellite to the Nasdaq exchange in New York, where the IPO was taking place.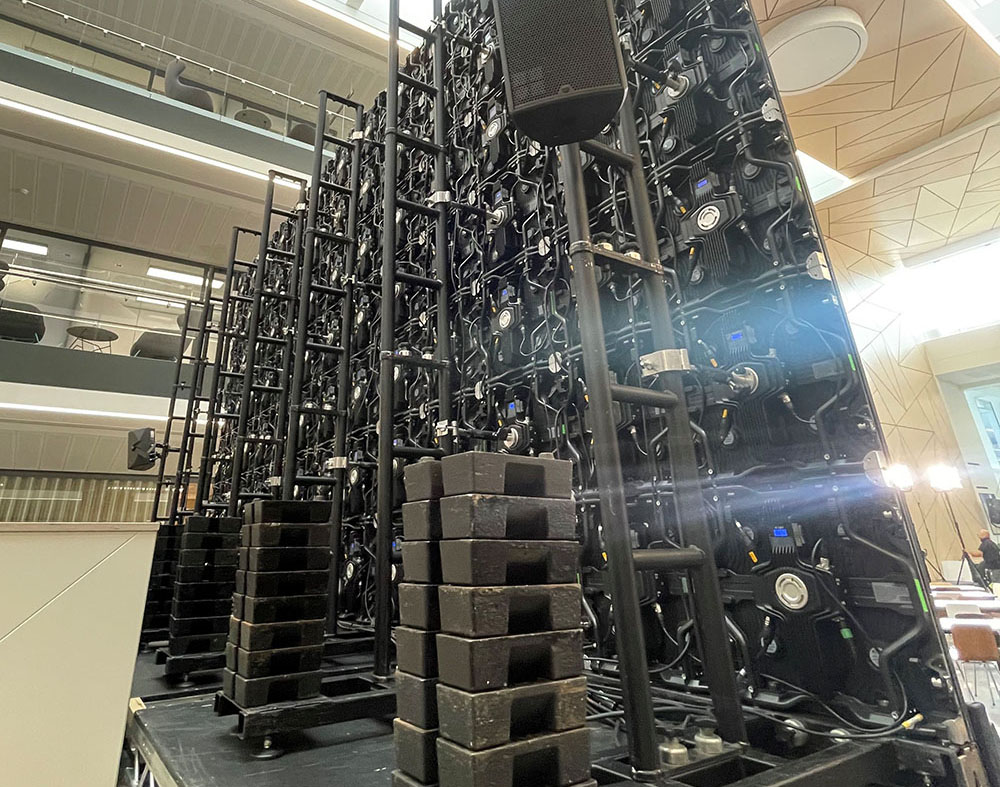 WhitePD installed a large 2.9mm LED video wall as the main backdrop for the live event. In addition numerous 98inch displays were installed throughout the Atrium space to ensure all attendees had the best view of the action. John Gibson headed up the video team for WhitePD and, with his team, managed the live camera, VT's and slides in the rooms along with the multisite bi-directional link up to the various other ARM offices.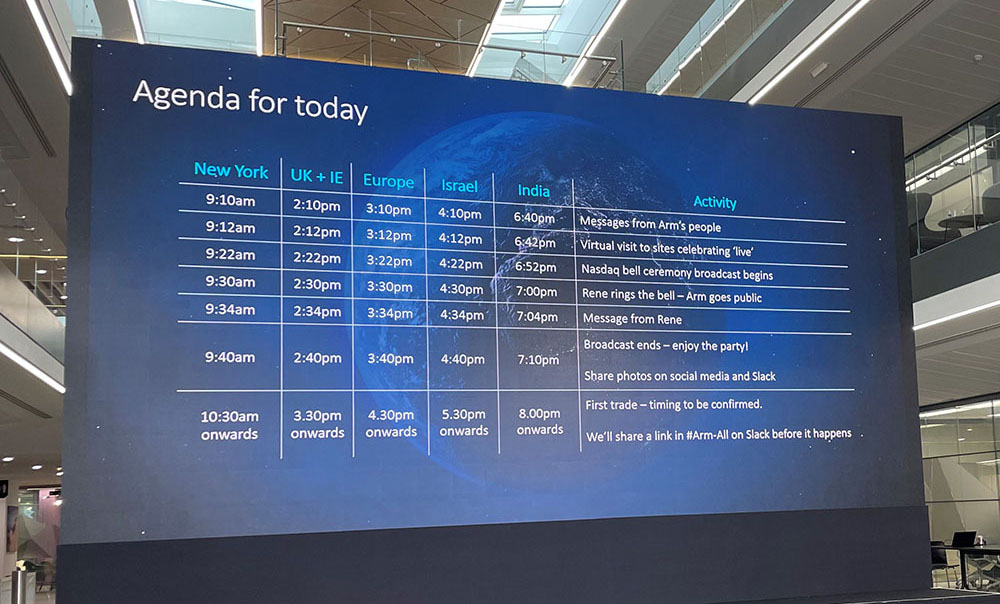 Audio reinforcement in the room was piloted by Stuart McKay with Ian Wood taking care of broadcast audio. A package of D&B Audiotechnik point source enclosures were supplied to give consistent audio coverage throughout the huge atrium space. Cabinets ranged from E8's as front-fills, outfills & stage monitors to the mighty V7 and V10p enclosures which were positioned at intervals down the 100m+ length of the presentation space. A further 12 Yp enclosures were installed as balcony fills with D40's providing the amplification for the system.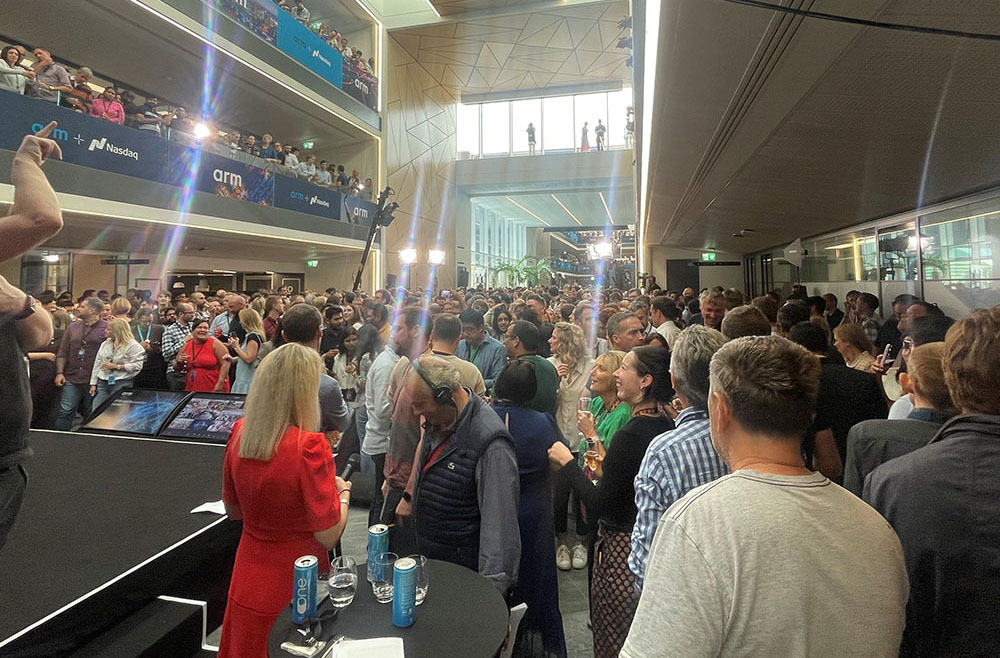 All the equipment was discreetly installed over a 2 day period leading up to the on-site test and rehearsal day ahead of all important floation day. In addition to audio and video services WhitePD supplied staging, lighting & comms for the whole event
For more information on hybrid event AV support please drop us a line – info@whitepd.com