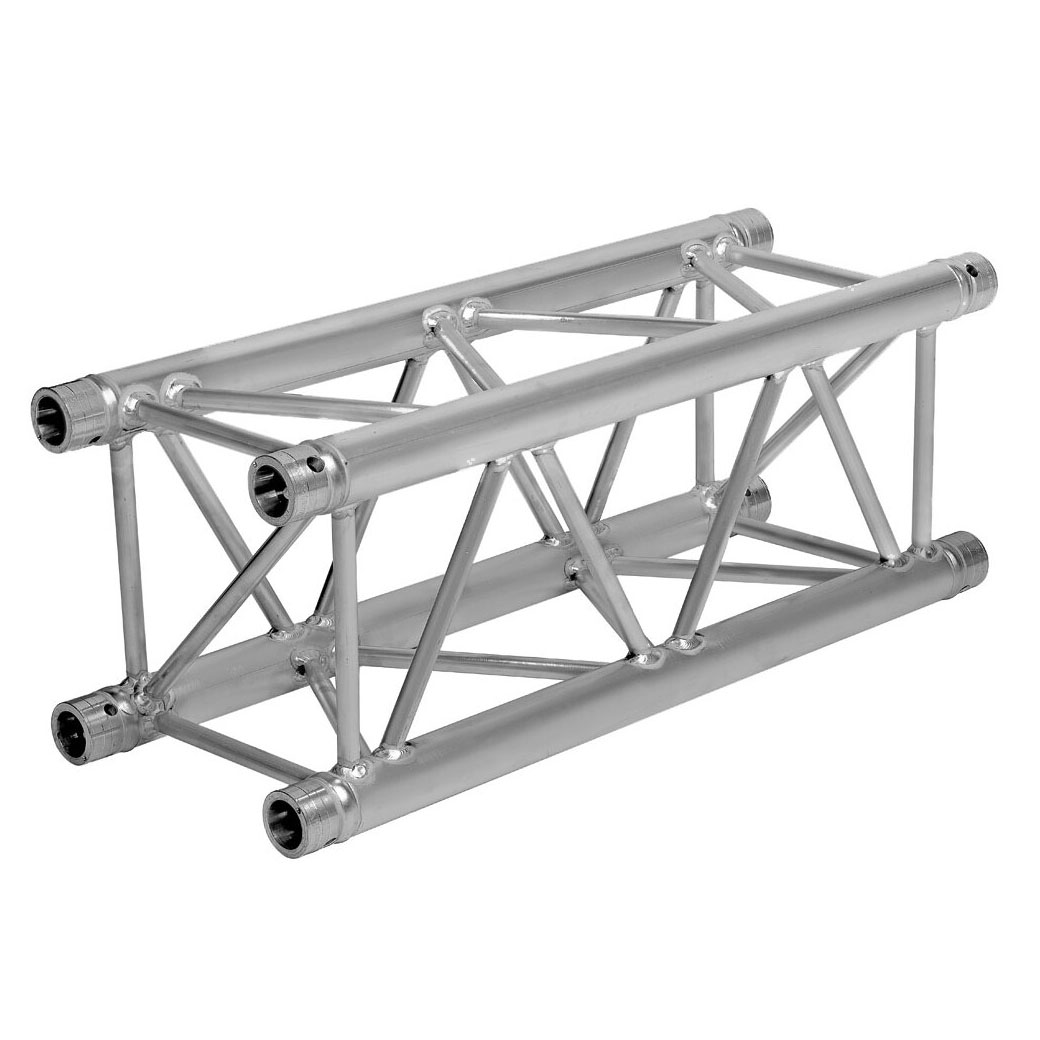 We stock a comprehensive range of Prolyte truss for hire. Suitable for a wide range of event rigging applications from a simple flown straight truss to more elaborate grid and ground supported structures ready for high loading. As world leaders in structural solutions for the events industry, the Prolyte brand is recognised as the go-to industry standard for versatility, strength, safety and efficiency. Our range of Prolyte truss is all connected with the CCS6 coupler system.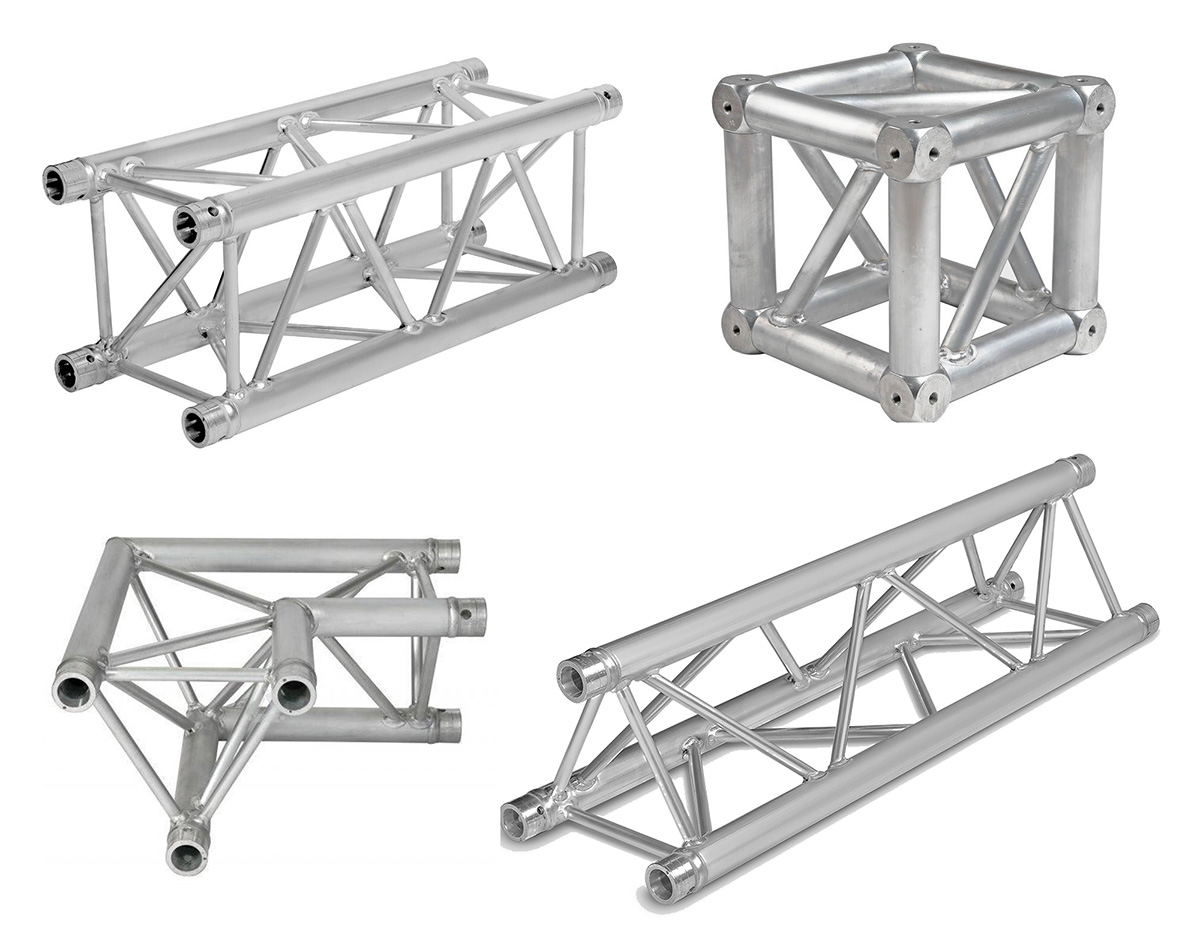 Our Prolyte stock includes truss and corner blocks for medium-to-heavy-duty uses. Prolyte H40R is a heavy duty truss from the H40 line of products. The rectangular design of the truss provides the high loading capacity of H40v but in a smaller volume package. Along with impressive loading capabilities the 3mm walls of the main tubes result in and good resistance to transport damage. H40R has a number of innovative design features. The pin orientation means that trusses do not need to be rolled when pinning. Instead of 20×2 webbing, the bottom of the truss has 48.3mm ladder section allowing fixtures, and thus weight, to be centrally hung keeping torsion effects to a minimum by reducing one sided loading. The design of the 40R also allows H30D triangular truss to be threaded through nodes to create quick and cost effective grids. H40v follows the same design format & continuous cross bracing as H30v allowing the same weight-loading as H40r but with the ability to use in any orientation.
Prolyte H30v is the industry standard medium duty GP truss that can be used in a wide range of applications. Equally at home in music events, theatre & corporate, H30V features continuous webbing which aids in fast assembly. It also has 4-point noding and cross bracing to increase strength. Our truss is regularly cleaned and replaced to keep it looking fresh and so it can be incorporated into set designs and exhibition stand building applications. H30d is the most compact truss we stock. It features impressive loading capabilities vs the truck space it uses. The compact size and low self weight make it an excellent product for applications where overall clearance and rigging weights are a key consideration.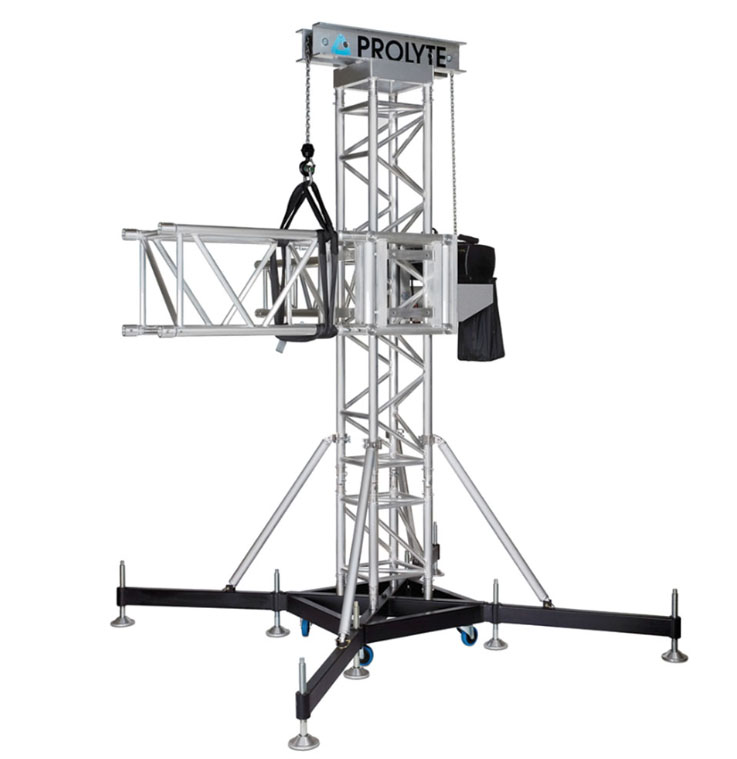 Our hire stock includes the Prolyte MPT tower systems. The MPT Tower is based on H30V truss uprights and employs a sleeve block that fits to any of the 30 or 40 Series trusses on all four sides by means of bolted CCS6 couplers (either male or female). In combination with an adapter plate, it is also possible to use the sleeve module with either S36R or S36V truss. The MPT sleeve block is a fully bolted structural element, making it much stronger and more precise than conventional welded versions. Our range includes long & short outriggers, motor-up & motor down attachments and a variety of header-block options. We hold all the components and structural reports for producing the Prolyte outdoor LED screen support system as well as the MPT PA towers.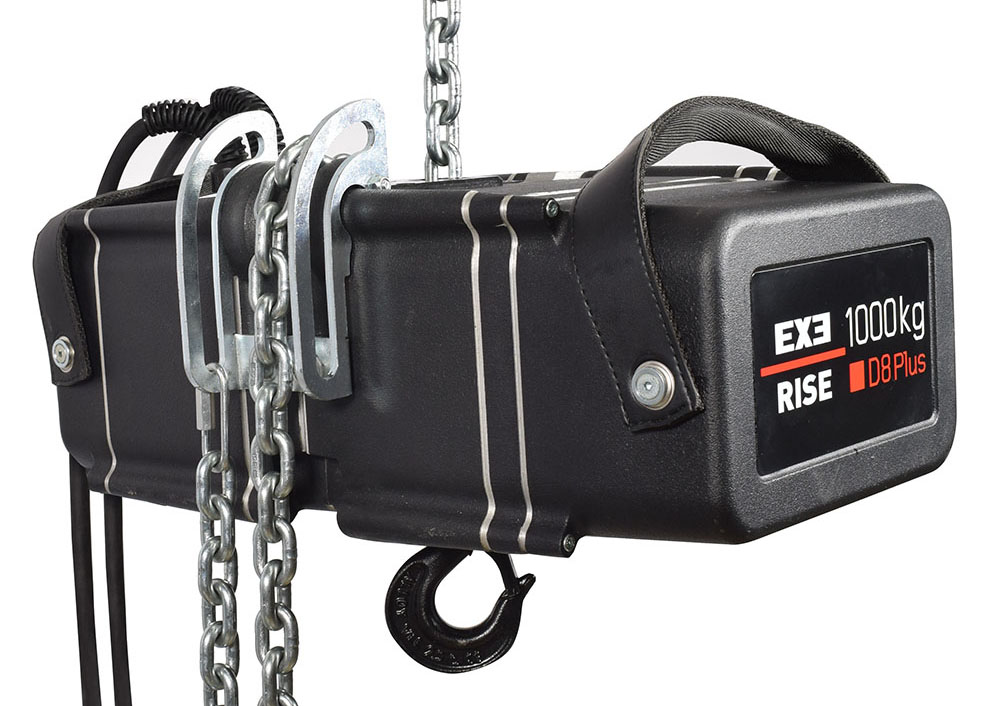 To complement our Prolyte stock, we have recently increased the stock of EXE motors in our rigging equipment hire department. Our stock includes motors with ratings of 250kgs, 500kgs and 1,000kgs. We also stock a range of Kinesys and EXE remote controllers. You can take a closer look at all of our hoists and lifts range here.
Our Prolyte truss hire stock includes a wide range of length formats for each product range that include 3m, 2.5m, 2m, 1.5m, 1m, 0.75m, 0.5m & 0.25m. With over 500m of truss on the shelf we can cover jobs of almost any size.
CPL loading capability – 10m span
Prolyte H30d – 243kgs
Prolyte H30v – 563kgs
Prolyte H40r – 780kgs
Prolyte H40v – 780kgs