A highlight of a very busy London Fashion Week for White Production Design took place at The Swiss Church in London's West End. Working once again with designer Ong Oaj-Pairam, White PD were contracted by Premier PR to supply set, catwalk, lighting, audio and mains distribution services.
The two most striking elements of the show, conceived by producer Jess Dubeck, were the large oil-slick style catwalk and multi-layer white cactus installation. All custom elements were manufactured by White Production Design at our warehouse in Peterborough. The 48 sq/m catwalk was machined from 8 sections of black acrylic, while the cactus was based around a CNC-cut MDF and timber sub-frame which was faced with white 5mm foamex to give a flawless and flat matt finish to ensure it photographed well.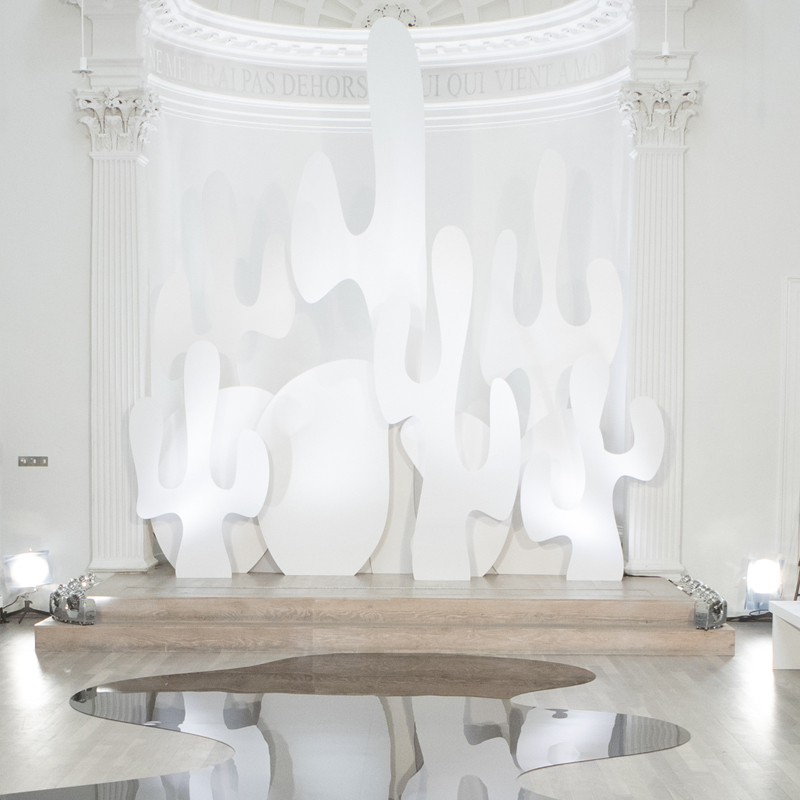 Lighting was a combination of Arri Tungsten fixtures mounted on both truss uprights and 1004-BAC stands. All features used Lee 202 and Hollywood frost to ensure the correct CT and a soft, diffused light for house photographer Simon Armstrong. The cactus was internally lit with a combination of Robe 600 wash fixtures and Chauvet WELL-Flex wireless uplighters. A d&b Audiotechnik system including a number of Y-Subs and T10s, driven by D80 amplified controllers was supplied and a Pioneer CDJ2000 NXS2 system supplied the replay.