DPA have been designing & manufacturing beautifully made microphones for over sixty years. They have built up a world-class reputation for superior sound and high-level technical innovation, giving us the confidence that our DPA microphones are quite simply the best you can get, so offering them to our customers for hire & production services was always going to be an easy decision.
Our hire stock includes three choices of headset mic. The 4066, 4466 and 4080 cardioid. For lapel and concealed placement we hold the DPA 4060 and DPA 6060 capsules for hire. All units can be supplied either as stand-alone items (either with micro-dot adaptors or XLR pre-amps) or with RF systems from Shure or Sennheiser. For instrumental & orchestral applications we offer the 4099, 4097 & 4055's. All are available with a full range of clips, mounts & stands.

WhitePD keep large numbers of the industry standard DPA 4066 headset for hire in beige, cocoa brown and black. The choice of professionals from the West End to Broadway for its durability and ease of use, the 4066 delivers clean sound without feedback, even when positioned close to loudspeakers. The newly designed 4466 retains the same capsule design & sonic performance as the 4066 but with a fully redesigned head-mount for a more comfortable and reliable fit on performers & presenters.

The conference go-to mic for lapel applications is the DPA 4060, a pre-polarised, omnidirectional condenser microphone designed for concealed use. Perfect for use within both corporate and theatrical applications. It can also be deployed for orchestral audio enhancement with the addition of various mounts such as the MHs6005 mic holder. The DPA 4060 provides crystal clear reproduction of speech coupled with high gain before feedback.

For an even more discreet approach, the DPA 6060 gives the renowned DPA quality sound in a 60% smaller package. DPA have shrunk their CORE technology ensuring the same outstanding audio results can be achieved even with these smaller microphones. We keep the DPA 6060 for hire in both black & white. The white finish disappears into lighter and white clothing and is perfect for use within conference, broadcast and video production environments. The microdot range of adaptors used by the 4060 and 6060 are compatible with all professional wireless systems, such as Shure Axient Digital, Shure ULX-D and Sennheiser 6000 digital.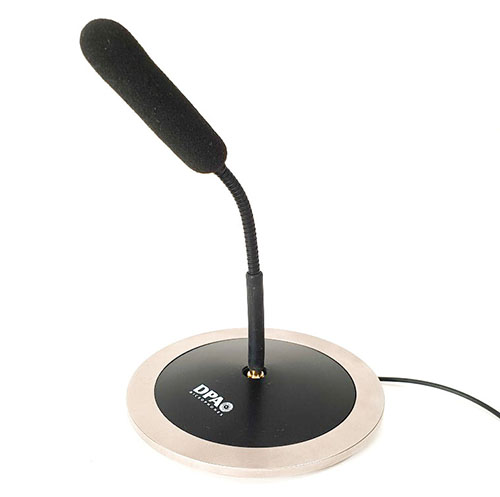 The DPA 4098 goosneck microphone is a great choice when you need a desktop or lectern mic for events such as conferences and awards shows. It can be configured either as a hardwired set-up (in conjunction with the DPA 6001 XLR pre-amp) or as a wireless system. This is particularly useful when being used as a lectern mic on Awards and Conference stages where quick changes are required. The 4098 is one of the best tools available when needing to provide clean audio in challenging acoustic environments – the supercardioid polar pattern ensures high isolation and provides outstanding audio quality, combining controlled directionality with high rejection of RF interference. For more information on DPA 4098 hire please don't hesitate to drop us a line.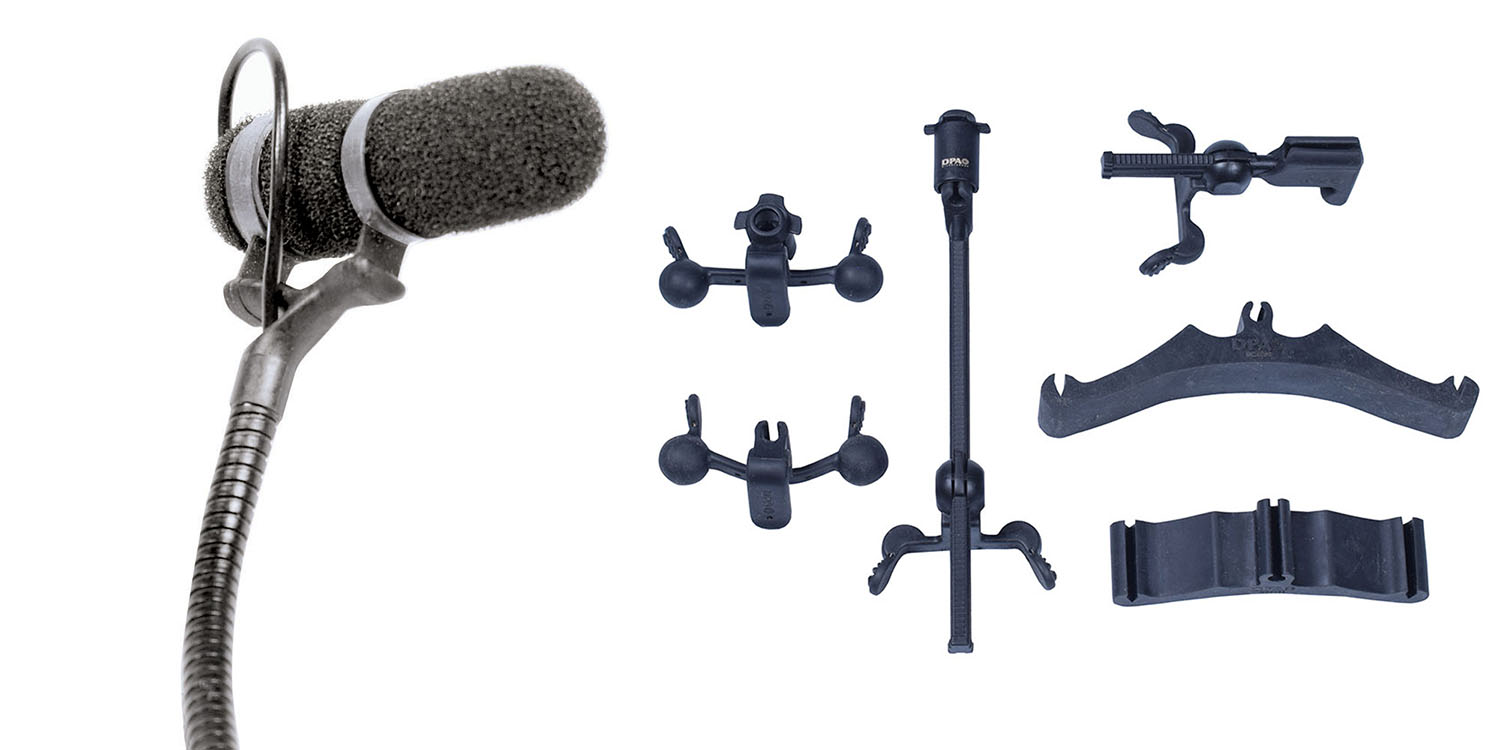 Of course, it isn't always about the vocals – when you need to mic an instrument – pretty much any instrument – then you need a DPA 4099. From the piano to guitar; strings to woodwinds; brass to percussion, the 4099 Series sounds equally impressive on them all. The beautifully engineered range of clamps and mounts make it simple to transfer the 4099 between instruments and when paired with a Shure Axient Digital or ULX-D system it's the perfect solution for all musical applications, from orchestral to live bands. The DPA 4099's are available for hire as single units or in the 4 or 10 way DPA touring kits. Using the same capsule as the 4099 the DPA 4097 is perfect for choir or soloist applications. Our DPA 4097 hire range includes the 122cm version with full stand kit
All of our DPA microphones can be hired as standalone items or part of a larger audio-visual hire package. Take a look at our full range of microphones available for hire here