Shure Digital – The first choice in wireless audio solutions
White Production Design have recently added the Shure Axient Digital systems to hire stock increasing our wireless audio solutions offering. The purchase complements our existing Shure ULX-D gear. These systems coupled with our extensive offerings from D&B and Yamaha commercial audio mean we are well placed to service a wide range of music, corporate and fashion events.
With input from working audio professionals, the Axient Digital range was designed to meet the most demanding audio needs at all events and has since been the go-to wireless solution for some of the biggest events around the world, including major award shows, music festivals, broadcast and Broadway. Both the belt-packs and handheld transmitters allow the user up to a 100-meter operating range and feature two transmission modes (Standard and High Density) making them extremely reliable solutions for many different events. The systems also feature a very wide tuning range of 184MHz, ultra-low latency, quadversity antenna options and a super flat 20 – 20k response.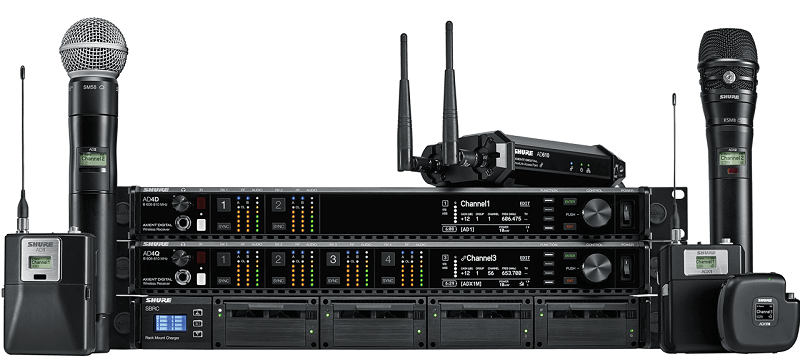 Here at White PD we offer the AD1 wireless belt-pack, AD2 handheld transmitters and both the AD4D and AD4Q receivers. Our handheld transmitters can be supplied with either the b58, b87, KSM8 or KSM9 capsules. For the belt-packs we hold a large selection of DPA capsules including the all new 6000 series sub-miniature series.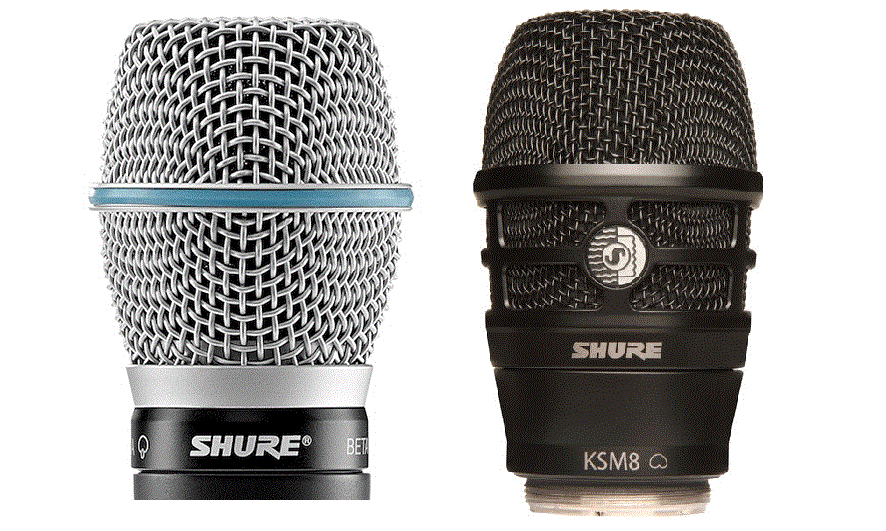 From the ULX-D range, we offer wireless belt-packs and handheld transmitters, as well as the superb ULX-D8 gooseneck style mics, providing rental customers with a varied choice to suit all production or corporate needs. All transmitter options provide a strong dynamic range due to Shure's ground-breaking Gain Ranging, alleviating the need for transmitter gain adjustments. The ULXD8 tabletop gooseneck transmitter represents a great step forward in offering the highest quality and most reliable congress-style microphone system that we've come across to date. As with the Axient systems our ULX-D's can all be supplied with DPA 4060's, 4066's, 4098's, 4099'a and 6060's – along with the full complement of handheld capsules.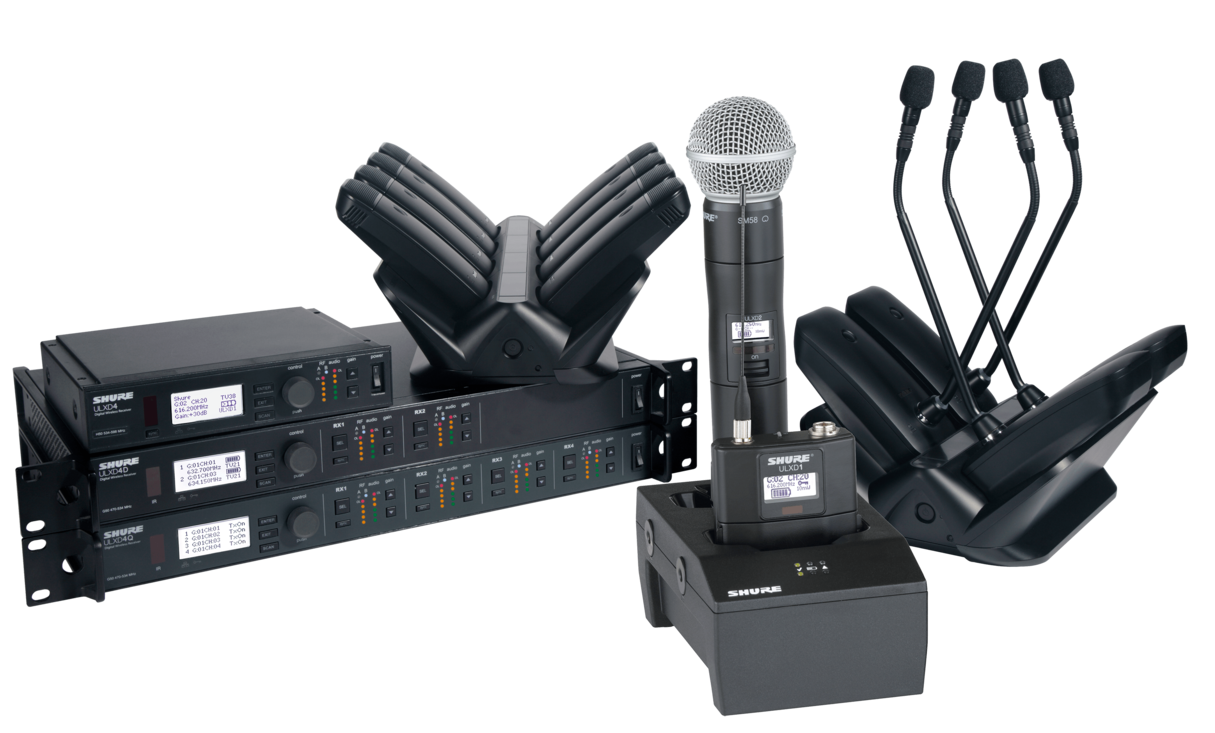 We hold the full set of receiver options in rental stock. The ULXD4 (1 channel) which boasts 24-bit/48kHz digital audio quality and predictive switching diversity, the ULXD4D (2 channel) and finally the ULXD4Q (4 channel), both offering individual gain controls up to 60dB, all featuring High Density mode and a tuning range of 72MHz and AES 56-bit encryption with belt-pack frequency diversity ensuring no interruption within audio critical situations.

Shure and Yamaha's collaboration to allow control and monitoring of both the ULX and Axient digital systems while using Dante for signal transmission has been revolutionary. The level of system integration now available, which also takes in the D&B DS10 and DSlabels on amplifiers, shows a really elegant step forward in the alliance of three of the industry's biggest names in pro audio manufacturing.
Shure Axient Digital
AD1 – Beltpack Transmitter
AD2/B58A – Handheld Transmitter
AD2/KSM8 – Handheld Transmitter
AD2/KSM9 – Handheld Transmitter
AD4D – 2 Ch RF Receiver
AD4Q – 4 Ch RF Reciever
Shure ULX-D
ULXD1 – Beltpack Transmitter
ULXD2/B58A – Handheld Transmitter
ULXD2/KSM8 – Handheld Transmitter
ULXD2/KSM9 – Handheld Transmitter
ULXD4 – 1 Ch RF Receiver
ULXD4D – 2 Ch RF Receiver
ULXD4Q – 4 Ch RF Receiver
ULXD8 – 10′ & 15′ Gooseneck Transmitter
DPA
4060 – Lapel Microphone (black)
4066 – Headset Microphone (black or pink)
4098 – 6″ Gooseneck Microphone
4099 – Instrument Microphone
4099 – Classic Touring  Kit
6060 – Lapel Microphone (black or white)