We've recently completed a large investment in new products to bolster our full range of hire and production stock. We can now offer bright and light Robe Painte, ultra compact Robe Cuete, fast-moving Robe LEDBeam 350 along with weather-beating Chauvet Color Strike M for hire.
The new units add even more variety and choice to our lighting hire department which is centred around Robe, Chauvet, Chroma-Q &and Arri. In addition to these fixtures we hold a full range of lighting control desks, data racks, effects equipment and custom-built mains distro racks. You can see our full range of lighting equipment here.
New product highlights
Chauvet Color Strike M
The Color Strike M means you can throw bright saturated colour wherever you need it – whatever the weather.
It's an IP65 rated motorized strobe/wash with two ultra-bright, white light tube elements surrounded by an electrifying, color-mixing, and pixel-mappable face. The IP65 casing protects the fixture from any environmental factors or weather and has two omega-bracket attachments so you can mount the fixture horizontally or vertically without any hassle.
Key features include:
High power, 180° tilting hybrid strobe/wash with IP65 rating for all-weather use
Lumens – Combined 71,620, Plate 18,600, Beam 54,381
14 controllable sections of RGB LEDs, 28 controllable sections of white strobe LEDs
Repositionable yoke for creative and convenient rigging options
DMX, ArtNet and sACN control capability
16-bit dimming control for smooth, perfect fades
Built-in alignment pins to ensure perfectly straight linear arrays
Weight – 12.1kg
Robe Painte
The Robe Painte delivers the perfect profile solution for short to medium throw scenarios in theatrical, television, installation, live or corporate settings. Painte's CMY colour mixing allows it to create an almost infinite range of colours and precise beam control is by the Plano 4 four individual plane shutter system. Designed for noise-sensitive environments, Painte features the TE 310W HP White LED engine from Robe's ground-breaking Transferable Engine technology, giving the super-bright Painte a total output of 14,900 lumens.
Key features include:
Designed for television, theatre & corporate settings
14,900 lumens output
CMY colour mixing for endless colour variations
Transferable Engine technology for cross-inventory consistency
Near silent operation
8 x Rotating glass gobos
Static and rotating gobo wheel
Electronic Motion Stabiliser system for enhanced fixture stability
Weight – 19.6kg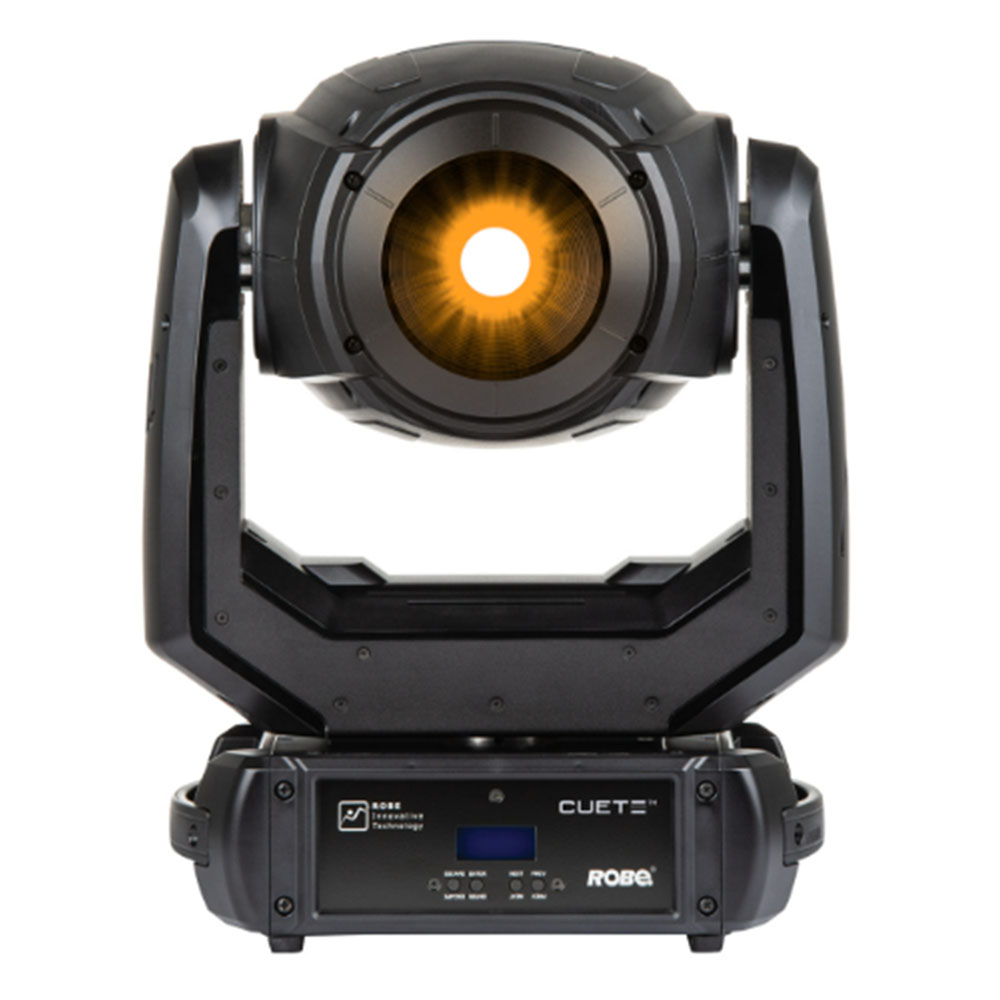 Robe Cuete
Cuete by name, Cute by nature (as the manufacturer puts it), this 120W spot delivers 5,900 lumens of light in a compact solution for smaller spaces or installations and CMY colour mixing allows it to create a near infinite range of colours. Cuete's compact size means its great for spaces with limited rigging weight capacity or when you need your lighting to be physically discrete. It's combination of speed, features and small footprint makes it the ideal companion to the LEDBeam 350.
Key features include:
Designed for smaller performance spaces or installations
5,900 lumens total output
Near silent operation
6 fixed gobos & 4 beam reducers
16º  beam angle
Dynamics effects package
Electronic Motion Stabiliser system reduces beam deviation
Weight – 12.2kg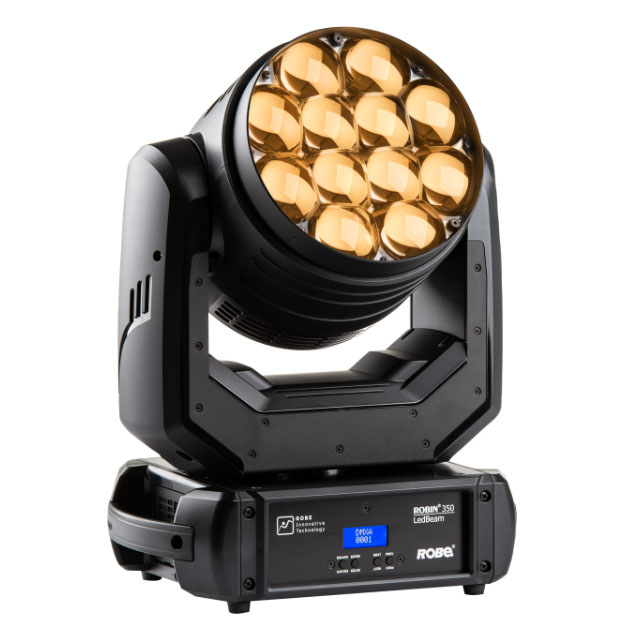 Robe LEDBeam 350
Bigger brother to the incredibly successful LEDBeam150, the Robe LEDBeam 350 is a  compact LED moving head wash-light with a wide zoom range of 3.8 to 60 degrees. The light source is 12 x 40W RGBW multi-chip LED's that produce incredible colour homogenisation and very smooth transitions when colour mixing. The compact footprint and super quiet operation of the LEDBeam 350 allows them to be discreetly placed on stage and/or within set pieces as part of designs.
Key features include:
Compact & very rapid
Motorized zoom with very wide range
Colour mixing mode RGBW or CMY
Virtual Colour Wheel: with 66 preset swatches
Compatibility mode – works seamlessly in combination with LEDBeam 150 models
Exceptionally quiet in use
Weight – 9.9kg
All of our lighting fixtures  can be hired as standalone items or part of a larger audio-visual hire package. You can take a look at our full range of lighting fixtures here.