Robe T1  – "The one and only fixture you need for theatre/tv and touring"
White Production Design have recently purchased 24 new LED sourced Robe T1 Profiles to bolster our hire and production equipment stock at our Peterborough base. The fixtures complement our existing range of units from the Robe catalogue which include Spiider, Viva & LEDbeam 150. The multipurpose unit billed as 'the one and only fixture you need for theatre/tv and touring' has proved to be an extremely versatile piece of kit and has already been put through its paces on a wide range of events and rentals.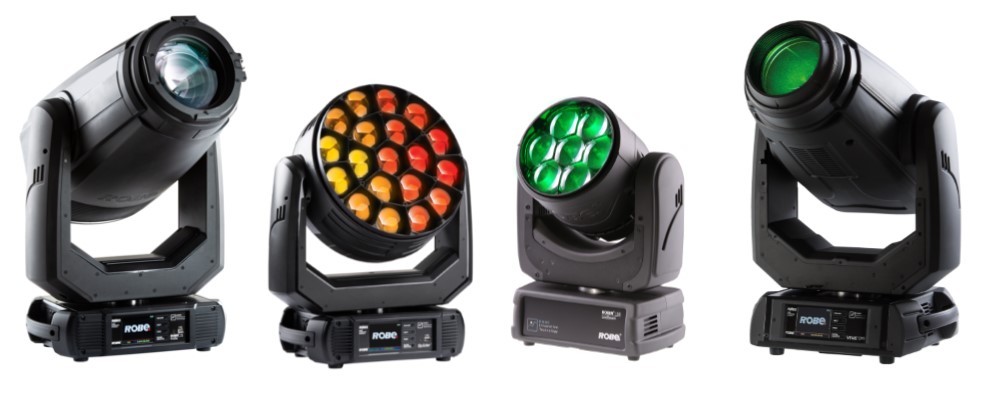 The 550w Multi-Spectral LED light engine in the T1 produces an almost infinite range of colours. From soft pastels to deep saturates through the bespoke Robe Colour Calibration algorithm. T1 is also equipped with a plus and minus green channel and flicker free management for occasions where HD and UHD cameras are involved in production. In addition, the high CRI (90+) provides natural skin tones.
With a wide zoom range of 7° – 49° and an output in excess of 10,000 lumens, this fixture is spectacularly bright. The effects, including a rotating gobo wheel, animation wheel speed, super smooth rotatable framing shutters and a 6-facet rotating prism, provide our on-site lighting designers with a very wide pallete of options. The ability to mount the T1 horizontally or vertically, coupled with 540° pan and 280° tilt movement and automatic position correction, allows effective, space-efficient rigging options and is well received by all our production engineers.

The unit is described by Robe as being 'full of theatrical subtlety', which makes it the perfect fixture for much of our corporate and fashion production work. Being near-silent in operation is crucial for conferencing applications, and the precise framing shutters and the looks that can be realised from combining the animation wheel, prism and gobo's together, make this an incredibly powerful tool for lighting and texturing sets and backdrops.
These fixtures are suitable for many different production situations including conferences, fashion shows, theatre and touring, and since purchase we have used them for a large Christian worship event, a number of fashion shows and several awards nights.
Specs
MSL™ 550 W Multi-Spectral LED engine
CRI 90+
Control: Automatic and remote on/off
High – efficiency zoom optical system, ratio 7:1